RE-SAMPLE Rationale
Many patients with COPD have multiple complex chronic conditions (CCCs) such as cardiovascular diseases, diabetes mellitus and mental health issues that increase the disease burden, mortality, and costs. These CCCs and COPD share common risk factors, have overlapping symptoms and pathophysiology, and can trigger exacerbations which can make treatment a challenge. Presently, most information is gathered during time-based scheduled visits when patients are usually stable. However, actual symptoms and changes occur following common daily life triggers. This is why, in RE-SAMPLE, we want to follow the patients in their daily life to collect information about possible predictors or triggers of exacerbations and disease progression.
RE-SAMPLE cohort study
As of July 2021, we set up a cohort of patients with COPD and CCCs in 3 clinical pilot sites: Medisch Spectrum Twente hospital in the Netherlands, Gemelli hospital in Italy, and Tartu hospital in Estonia. Over the next three years, we will monitor certain parameters (e.g. daily symptoms, quality of life, physical activity) via sensing devices, experience sampling, and triage symptom diaries to obtain Real World Data (RWD). These RWD, as well as data from existing knowledge bases and scientific literature will be used to create prediction models through privacy-preserving artificial intelligence.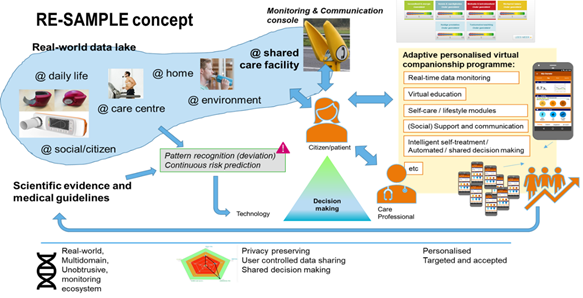 In December 2023, we are going to integrate the final prediction model in a personalised virtual companionship programme for patients and an active support programme for healthcare professionals. A select group of patients from the cohort study will have the chance to use and evaluate the virtual companion over the course of nine months.
End-user involvement
During RE-SAMPLE, we want a continuous involvement of the end-users - the patients and healthcare professionals. This entails a citizen science approach in which we will consult with patient panels about their expectations and experiences with the monitoring of parameters, design of the technologies and eventually the companionship program. 

We will also work closely with healthcare professionals to integrate their expectations and clinical expertise.